So your friends are making money with Crypto and you want to figure out how to join the party? How do you buy this Shiba Inu Coin everyone is talking about? Man.. all this stuff is super confusing! First of all you need to start small and understand things from square one.
Getting started with cryptocurrency and Bitcoin
Step zero is to fix your budget so that you can allocate funds regularly to invest and set aside. If you do not have this yet, please stop reading and head over here first. Once you have an understanding of budgeting and you have some disposable income that you want to grow through investment, then continue reading. This article will show you how to buy and invest in your first cryptocurrency.
Deposit USD (or your local currency) into Coinbase Pro and trade it for cryptocurrency
Now that you have some money you'd like to invest into cryptocurrency, step one is to get that money into an exchange so that you can buy cryptocurrency. I personally use Coinbase Pro as I'm a US citizen and I've found it to be super easy to deposit USD into their platform and use that to buy Bitcoin (BTC), Ethereum (ETH), or many of the other cryptocurrencies or coins that are out there in the world. Some exchanges don't allow American Citizens to access their exchange so make sure that you choose one based on your nationality. VPNs are also an option here if you need to access a specific exchange from any country.
You can use the regular Coinbase Platform, but in my experience they charge more fees, although it is slightly easier to use.
Follow this link to the Coinbase Pro documentation on how to link a bank account and fund your Coinbase Pro account.
Once linked, the process is as simple as a few clicks to deposit USD into Coinbase.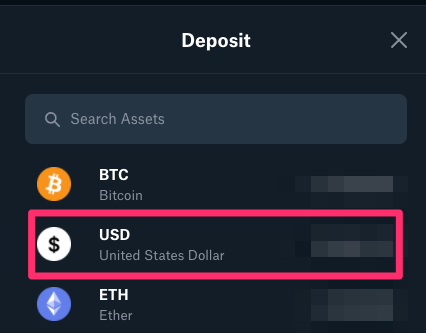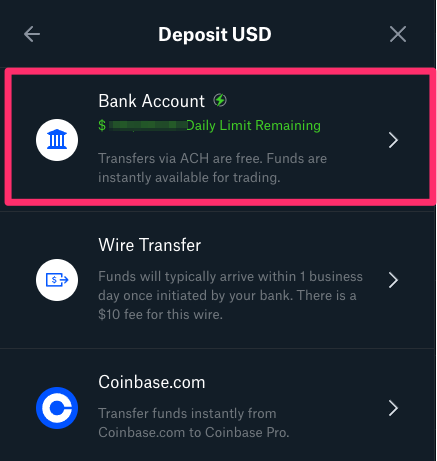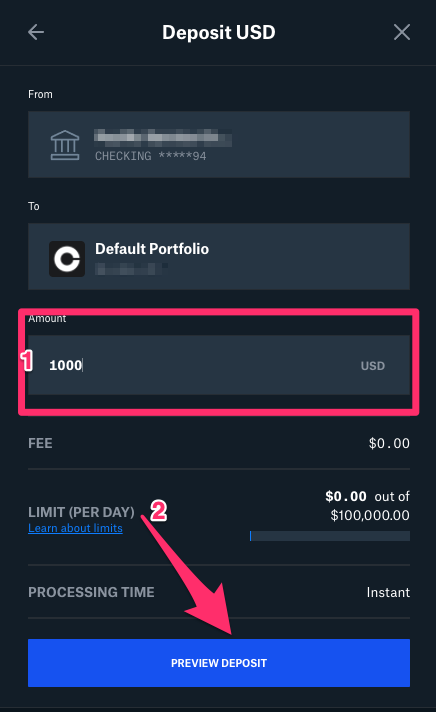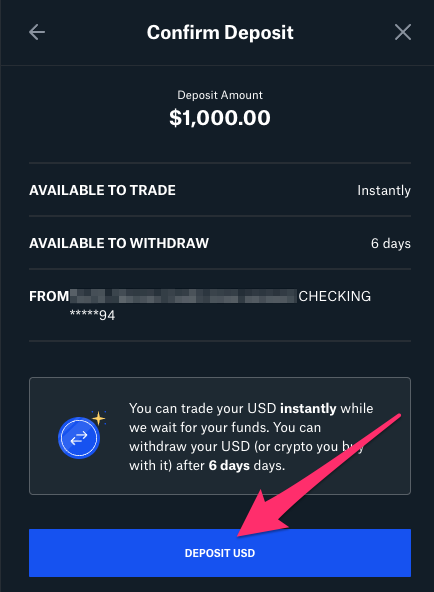 The best part is that you can trade immediately once you deposit your funds. You no longer need to wait for the deposit to clear so you can take advantage of an uptrend. The only limitation is that you cannot withdraw your funds from Coinbase for a short period of time.
Trade USD for Bitcoin, Ethereum, or any other cryptocurrency in your exchange platform
Now that you have funded your account, you'll need to make that first purchase or investment into the cryptocurrency world. The best cryptocurrency for beginners is definitely BTC or ETH. Those two will help you to build a foundation in your cryptocurrency knowledge, and will be arguably the least volatile assets to own. The added benefit of ETH is that you can use it to dip your toes into Decentralized Finance or Defi.
How to place a market order or a limit order in Coinbase Pro
With your exchange, you generally have the ability to place a market buy order or a limit buy order. Those familiar with stocks will understand this concept and for those of you who need some explanation, please continue reading. We will be purchasing BTC with USD in these examples.
Market orders are easier to work with as you will buy the cryptocurrency asset at its current price. All you have to do is choose the trading pair you want to work with, specify the amount of currency you wish to spend, click buy and then the system calculates how much of the asset you will receive.

Limit orders are slightly more complicated but they are more versatile and also protect you when the cryptocurrency pair that you are trading does not have a lot of liquidity. This is more of an advanced concept that we will cover later. Similar to market orders, you would choose the trading pair that you want to trade, select 'limit' as order type, enter the amount of BTC you want to purchase, and then the limit price that you want to execute the trade at.
If you want the order to execute immediately you would choose a price at the current price level. This also protects you in the event that there's a flash spike in price. If you had chosen a market order, the order would execute at whatever that price is when the buy button is pressed. The other way you can use limit buys is if you want to purchase the asset on a price dip. Potentially at one of the next support levels. This is a more advanced trading strategy.

However you choose to buy your first crypto is up to you! Either market or limit buys can help you to accomplish this goal.
You now own your first cryptocurrency, congratulations!
Guess what? You are the proud owner of your own cryptocurrency. You've taken the first step. You can end your journey here, if you just want to hold or HODL that coin for appreciation, which isn't a bad strategy. If you want to continue to learn about crypto and blockchain, or understand what decentralized finance is. Check out one of these articles:
Create a Metamask wallet and send ERC-20 tokens to it
What is Decentralized Finance
How to send your crypto off of Coinbase