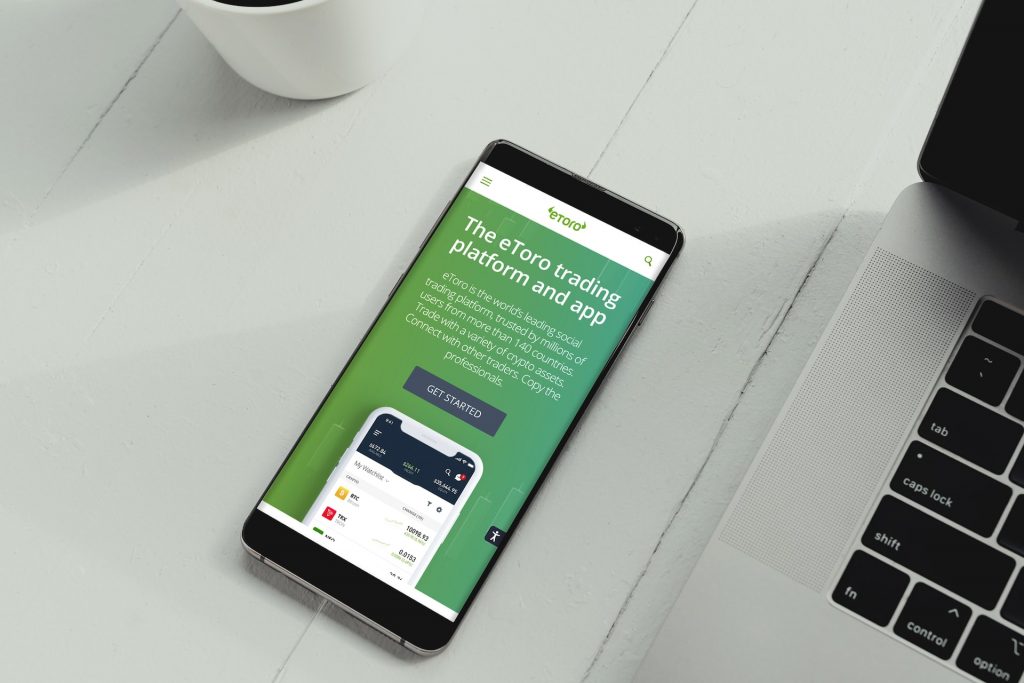 You have many choices when it comes to places where you can buy bitcoin and other cryptocurrency. One platform that I really like and have been using more in recent months is eToro. If you are interested in investing in Bitcoin, you cannot go wrong with this exchange. In this article, I will guide you step by step on how to buy Bitcoin on eToro.
What is eToro?
eToro is a social trading and investment platform that allows you to trade and invest in various assets, including stocks, cryptocurrencies, and commodities. It was founded in 2007 and has since become one of the most popular investment platforms in the world. eToro is known for its user-friendly interface, social trading features, and low fees.
Steps to buy Bitcoin on eToro
Creating an Account on eToro
To buy Bitcoin on eToro, you need to create an account on the platform. The process is straightforward and can be completed in a few minutes. Go to the eToro page, enter in your login information, and click on Create Account.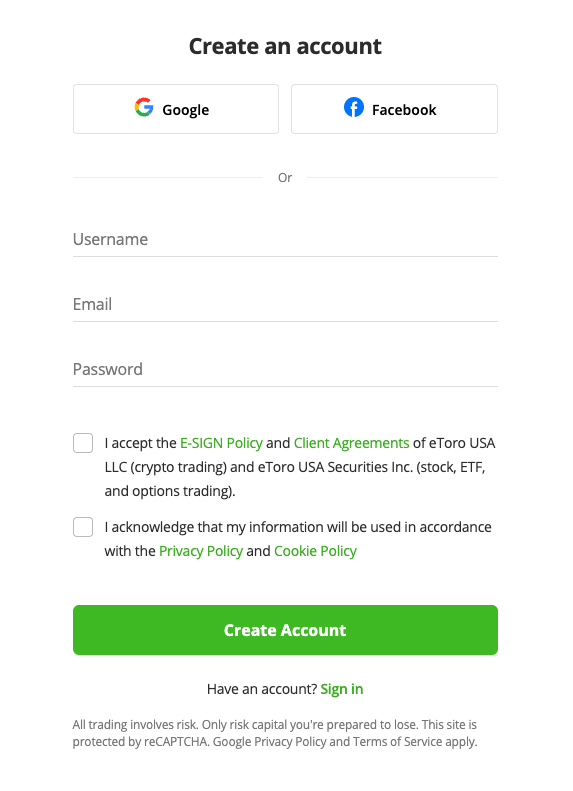 Verifying Your Account on eToro
Once you have created your account, you need to verify your identity to comply with eToro's regulations. You will be asked to provide a copy of your government-issued ID and proof of address. The verification process can take up to a few days, depending on the volume of requests. They will also ask about your risk profile and trading experience. I recommend to fill this out with as much accuracy as possible as trading comes with inherent risk.
Depositing Funds on eToro
Before you can buy Bitcoin on eToro, you need to deposit funds into your account. eToro offers various payment options, such as credit/debit cards, bank transfers, and e-wallets. The minimum deposit in the US is $10, and there are no deposit fees. I used the Paypal deposit method, directly debiting from my bank account for no fee. The funds showed up in my account immediately.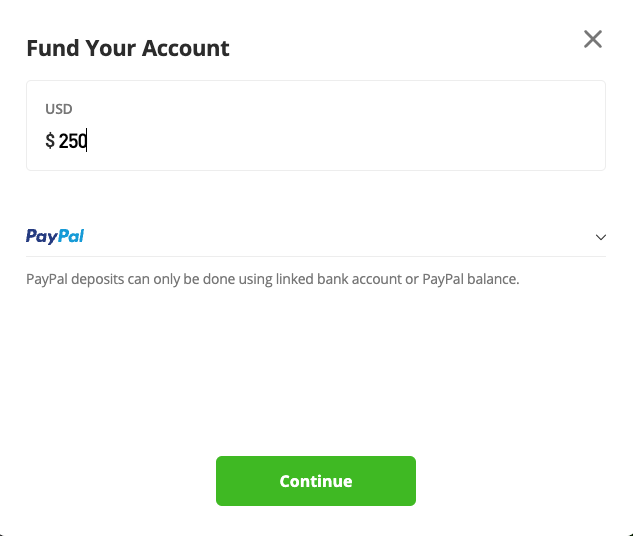 Understanding Bitcoin on eToro
Before you buy Bitcoin on eToro, it is essential to understand how it works. Bitcoin is a digital currency that uses blockchain technology to facilitate secure transactions without the need for intermediaries. Bitcoin's value is volatile and can fluctuate rapidly, making it a high-risk investment. You can read more about it here.
Buying Bitcoin on eToro
To buy Bitcoin on eToro, open up your Watchlist and it will be the first asset on the page. You can also search for it in the search bar. Click on the Buy button.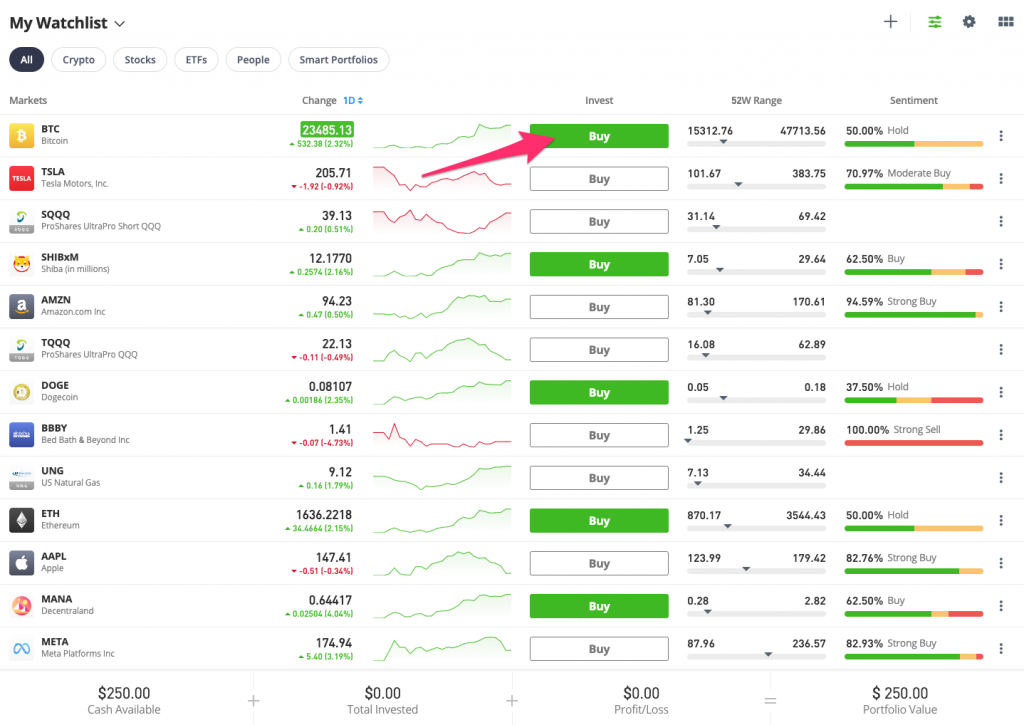 Enter the amount of Bitcoin in USD you want to buy, and Open Trade to complete the purchase.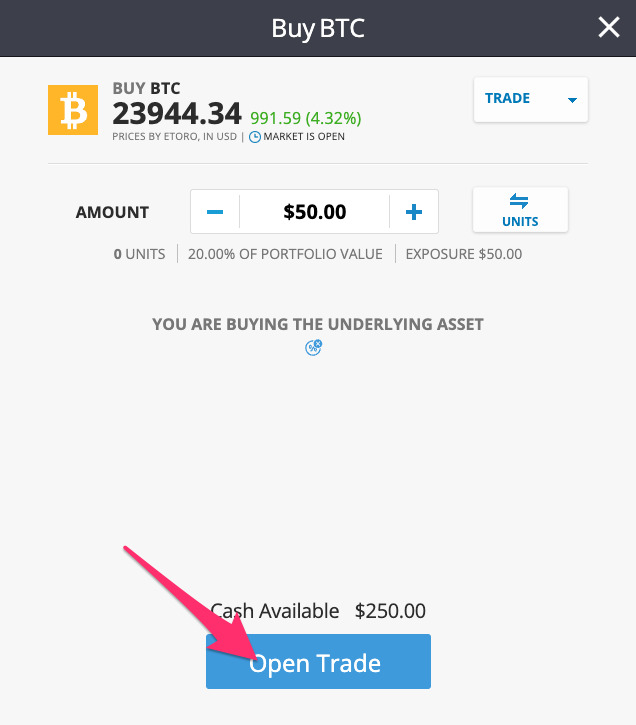 You might notice that the price in this window is slightly higher than the listed price on the BTC page. This is because eToro automatically adds in the 1% fee into the cost of the asset. This is the price of doing business with them.
Congrats! You now own your own piece of Bitcoin on eToro! You can now even share this on the platform.
After you buy
Setting a Stop Loss on eToro
Setting a stop loss is crucial when investing in Bitcoin to mitigate potential losses. A stop loss is an automatic order to sell your Bitcoin if the price drops below a certain level. To set a stop loss on eToro, go to the "Portfolio" section and click on the Bitcoin position. Click on "Edit Trade" and set the stop loss level.
Monitoring Your Bitcoin Investment on eToro
eToro provides real-time data and charts to help you monitor your Bitcoin investment. You can track the performance of your investment and make informed decisions based on the data provided. Additionally, eToro offers a social trading feature that allows you to see what other traders are doing and follow their strategies.
Selling Bitcoin on eToro
If you decide to sell your Bitcoin on eToro, go to the "Portfolio" section and click on the Bitcoin position. Click on "Sell" and enter the amount of Bitcoin you want to sell. eToro will automatically calculate the USD value of your Bitcoin based on the current market price. Click on "Open Trade" to complete the sale.
Withdrawing Funds from eToro
If you want to withdraw funds from eToro, go to the "Withdraw Funds" section and enter the amount you want to withdraw. Select your preferred withdrawal method and enter the necessary information. The minimum withdrawal amount is $30, and there may be withdrawal fees depending on your chosen method.
Additional eToro Information
eToro Fees
eToro charges a 1% fee for trading crypto on the platform. You can find a complete list of eToro's fees on their website.
eToro Security
eToro takes security seriously and has implemented various measures to protect its users' data and funds. They use SSL encryption to secure their website and store users' funds in segregated accounts. Additionally, eToro is regulated by various financial authorities, such as the FCA and CySEC, to ensure compliance with industry standards.
eToro Customer Support
eToro offers customer support via various channels, including email, phone, and live chat. They also have a comprehensive FAQ section on their website that addresses common questions and issues.
Conclusion
Buying Bitcoin on eToro is a straightforward process that can be completed in a few steps. However, it is important to understand the risks involved in investing in Bitcoin and to do your own research before making any investment decisions. eToro is a reputable platform that offers a user-friendly interface and a range of features to help you make informed investment decisions.
FAQs
Is eToro safe for buying Bitcoin? Yes, eToro is a regulated and reputable platform that takes security seriously.
How long does it take to verify my eToro account? The verification process can take up to a few days, depending on the volume of requests.
Can I buy Bitcoin on eToro with a credit card? Yes, eToro offers various payment options, including credit/debit cards.
What fees does eToro charge for buying Bitcoin? The fees for trading cryptocurrencies on the eToro platform is 1%.
Can I withdraw Bitcoin from eToro? Yes, you can. It is possible to withdraw crypto positions that meet certain requirement from the eToro platform to the eToro Money crypto wallet.
Further reading