TL:DR
Want to combine NFTs, Gaming and the $DOGE hype? Enter 8 Bit Doge, $BITD. Currently sitting at just under $5M market cap, the sky is the limit. It's also deflationary, burning 10% on each transaction, which results in some good tokenomics. One last positive is that there's been a bit of sideways action lately so $BITD is ready to break out very soon. If this is the opportunity for you, continue reading for full buying instructions.
$BITD important links:
Fund your BSC Wallet with $BNB
Follow this guide to set up your Metamask to transact on BSC. Once your Metamask is properly set up, you can send $BNB to your wallet to start trading. BSC is like the $ETH network, but with $BNB as the underlying currency. It's fast and cheaper in fees to trasnact on than the ETH network is.
I funded my BSC wallet by:
Sent $ETH from Coinbase Pro to Binance.US
Traded $ETH for USD and then USD to $BNB on Binance.US
And then sent the $BNB via the BSC network (BEP20) to my Metamask Wallet
Head over to Poocoin and make the trade through PancakeSwap
You can go directly to PancakeSwap, but I find it easier to use Poocoin as my main terminal that connects to all the other BSC DEXs.
You can use the Poocoin link in the header section to go directly to the $BITD page or enter in the contract address in the search bar:
0x003F83da9868AcC151Be89eeFA4D19838FFE5D64

Click the trade button to bring up the embedded PancakeSwap trade dialogue. Enter in what you want to swap and smash the swap button for the pancake algorithm!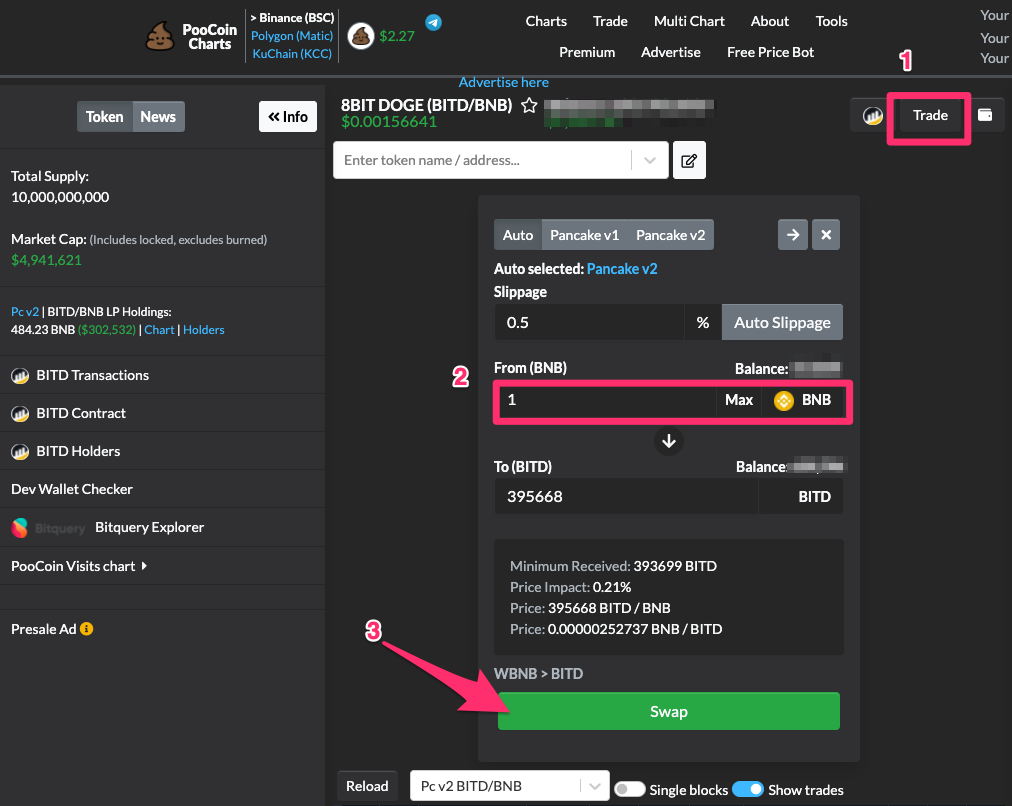 What next?
Now you're the proud owner of $BITD and can start interacting with the game and community. Head on over to their page for more info or interact with the community on their Telegram.