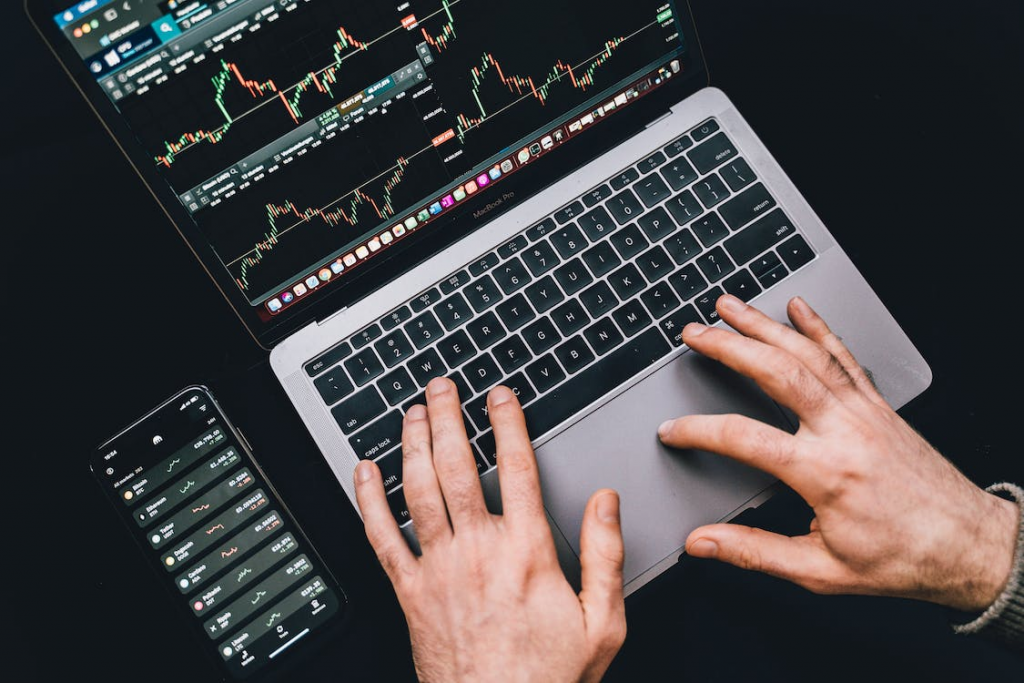 So you want to buy $COIN (insert any cryptocurrency here). What exchange is it on? Is it a DEFI coin? What's the process from start to finish? Here's a beginners guide on how to identify the process to purchase any coin from start to finish. I'll use $ETH (Ethereum), as an example because it's available on both centralized and decentralized exchanges.
Introduction
This first section will be for complete beginners, if you have foundational knowledge already, feel free to skip to this section on the step-by-step guide to buy coins.
Cryptocurrency is a digital asset that operates independently of a central bank. With the rise of Bitcoin and other cryptocurrencies, many people are now interested in investing in the crypto market. However, buying cryptocurrency can be intimidating for someone who is new to the world of crypto. In this article, I'll provide a comprehensive guide on how to buy crypto, from choosing a cryptocurrency exchange to storing your crypto safely.
Choose a Cryptocurrency Exchange
The first step in buying crypto is choosing a reputable cryptocurrency exchange. A cryptocurrency exchange is a platform that allows you to buy, sell, and trade cryptocurrencies. The exchanges that I recommend are Coinbase, Binance.com, Binance.US, and Kraken.
When choosing an exchange, consider the following factors:
Security: The exchange should have robust security measures in place to protect your crypto and personal information.
Availability: Make sure the exchange operates in your country. Some exchanges only operate in certain regions, so check for availability.
Fees: Different exchanges have different fees, so compare fees and choose an exchange that is affordable.
Payment options: Different exchanges accept different payment options, such as credit cards, bank transfers, and PayPal. Choose an exchange that accepts your preferred payment method.
Set Up an Account
Once you've chosen a cryptocurrency exchange, the next step is to set up an account. To set up an account, you will need to provide personal information and go through a verification process. The verification process can take anywhere from a few hours to a few days, so be patient.
Add Funds to Your Account
Once your account is set up and verified, you will need to add funds to your account in order to buy crypto. Different exchanges accept different payment options, so choose the payment option that works best for you. Some popular payment options include bank transfers, credit cards, and PayPal.
Buy Crypto!
Once your account is funded, you can now buy crypto! Congratulations!!
Here's the step by step guide on how to buy any crypto coin.
Look up the coin on a crypto tracker identify where to buy it
Coingecko is my preferred tool to do coin research before making any purchases. Coinmarketcap was bought by Binance and I believe that results in a small conflict of interest.
Search for the 'ETH' symbol in the bar in the upper right and navigate to the result: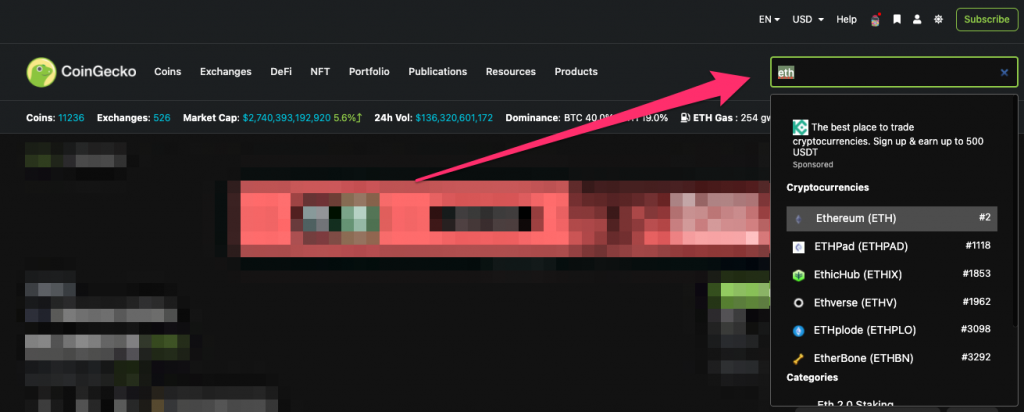 On $ETH's page navigate to the markets section a little ways down the page: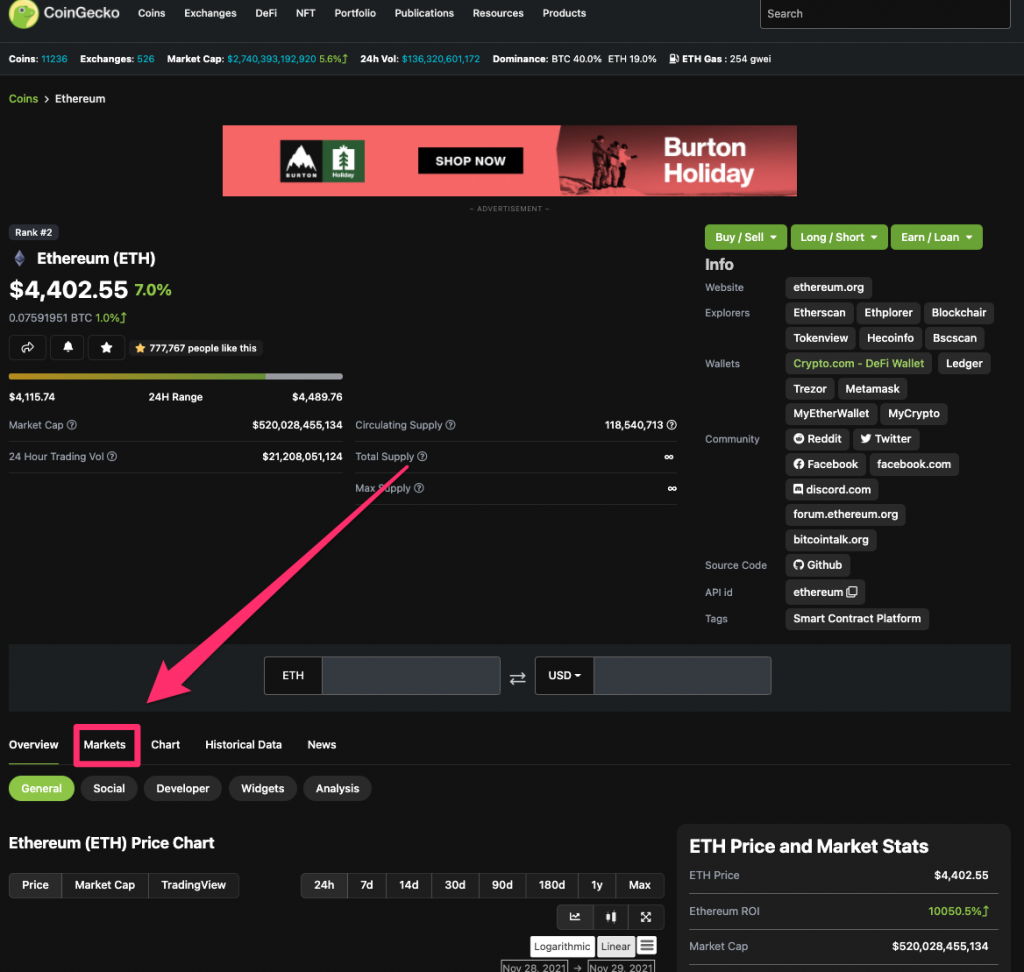 Look through the list of Markets that the $ETH is tradable on and find the ones that you have already created an account with in the previous steps.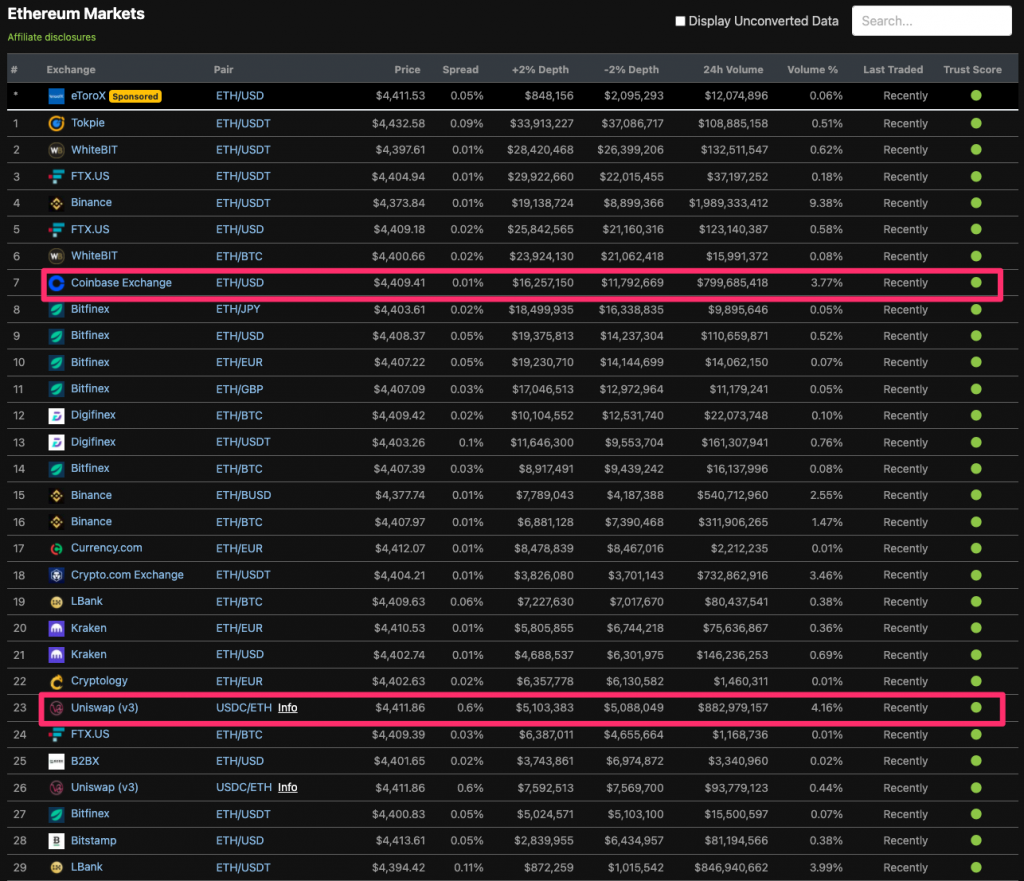 I can use both Coinbase (CEX) and Uniswap (DEX) so i've highlighted those on the list. Now I know where I can go to purchase $ETH.
Access your exchange of choice
Trading on a Centralized Exchange
Now that I've established that $ETH is available on Coinbase, I can go the exchange and trade for that coin. You can deposit USD into Coinbase to trade for $ETH, or trade another coin for it.
Here's a full guide on how to start using Coinbase Pro.
Swapping on a Decentralized Exchange
Because $ETH is also available on Uniswap, I also have the option to head over there to swap for the coin. Using Uniswap requires a Web3 wallet like Metamask and you would need to have another coin on your wallet to swap for it. $ETH is actually the backbone currency of Uniswap and Defi.
To make a Swap on Uniswap, you can either send $ETH you purchased on Coinbase Pro to your Metamask or another ERC20 token like $USDC.
Check out this guide on how to make a swap on Uniswap.
Store Your Crypto Safely
The final step in buying crypto is to store it safely. Your cryptocurrency exchange should provide a wallet to store your crypto, but it is recommended that you store your crypto in a hardware wallet for added security. As they say, not your keys, not your crypto. A hardware wallet is a physical device that stores your crypto offline, providing an extra layer of security. Some popular hardware wallets include Ledger and Trezor. The hardware wallet I use is the Trezor Model T.
Conclusion
Buying crypto can seem intimidating at first, but it doesn't have to be! Just follow these steps and you can buy crypto with confidence and store it safely. The best time to invest in anything is yesterday, so get started now.
Further reading: guides on buying specific coins
$UFO is a gaming coin that has gained a lot of popularity in the recent weeks. This coin is only found on DEXes and I've personally purchased it through Uniswap. Full guide on how to buy.
$SHIB has literally mooned over the past few months and many people are clamoring to get a piece. It even surpassed $DOGE at one point. I personally believe that Shiba Inu Coin has already given most of its gains, but it will still likely do well with all the current hype surrounding it. Full guide on how to buy.
Gaming and NFT coins have been huge lately and this one will be no exception. From the creators of $NEO, this is a top project that will see a lot of hype in the upcoming months. Full Guide on how to buy.
$HIFI is currently a very small market cap coin of $13.5M as of December 1st. If you know anything about market caps, you know that $2.5B isn't a big target for a gaming metaverse coin. Get in now while you still can, and don't be sad that you missed the rocket.
8 Bit Doge is a small cap, NFT and Gaming token that's related to $DOGE. A lot of potential here when the Dog coins make a resurgence.