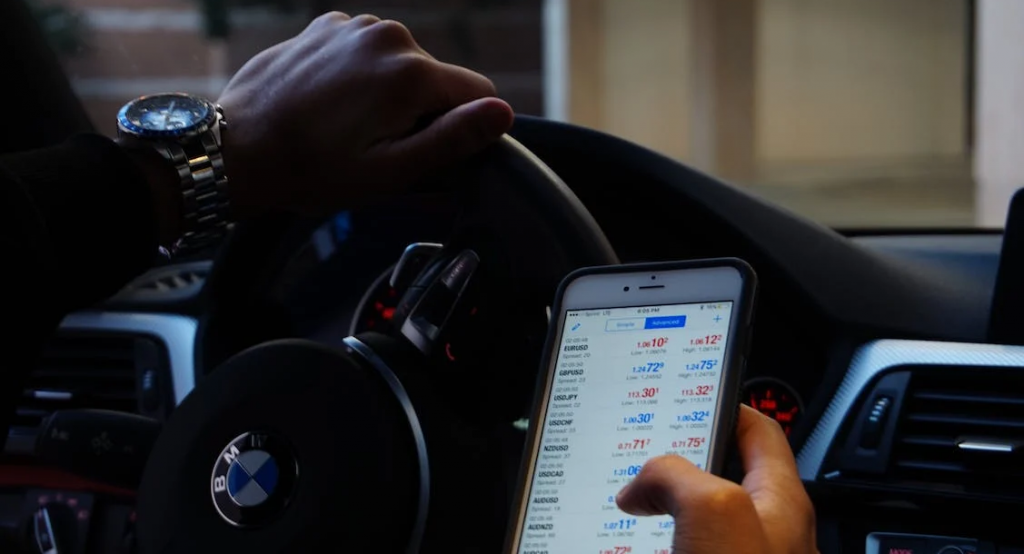 Investing in cryptocurrency is a complex and challenging task that requires the use of the best tools to make informed decisions. With so many options available, it can be difficult to determine which tools are the best for monitoring the crypto market and making trades. That's why we have put together a comprehensive guide to the best tools for trading crypto that every investor should be using.
Trading Platforms
Centralized crypto exchanges
Centralized crypto exchanges (CEXs) are a crucial tool for buying and selling cryptocurrencies. These platforms offer advanced trading tools, including charts and analysis, to help you make informed decisions about when to buy and sell. One of the key considerations when choosing a trading platform is security. You want to ensure that your investments are protected and that the platform uses robust security measures to prevent hacking and fraud. Additionally, you want to look for platforms that offer low fees and fast, reliable execution to ensure that you can take advantage of market opportunities as they arise.
Here are my top picks for CEXs:
CEXs are the #1 most important crypto tool to have in your belt because it's how you will trade your fiat currency for cryptocurrency. This is the first step in your journey into the crypto world.
Decentralized crypto exchanges
Decentralized crypto exchanges (DEXs) are the new crypto trading tool that you'll want to familiarize yourself with. This is something necessary to enter the world of Defi. I will write up a post on this in the future, but for now you can watch this video to familiarize yourself with the important Defi concepts:
DEXs use liquidity pools to enable you to exchange currencies with other people without a centralized custodian to make the swap. You retain the private keys for your crypto so you don't need a centralized entity to be the custodian. This is achieved through Smart Contracts.
Tax software
Crypto traders need to keep track of their trades for tax purposes. Tax software such as CoinLedger, TokenTax, and CoinTracker are essential crypto tools that can help with this by automatically generating tax reports and helping you calculate your gains and losses. See my post on Best crypto tax software for a full breakdown on these different products. They are all fairly similar and have slightly different pricing models to one another.
Any choice that you make won't be a bad one, but you want to make sure that the tool that you choose fits into your needs based on how much trade volume you do.
CoinLedger

Note: that the Free plan does not include tax forms.
TokenTax

CoinTracker

Hardware Wallets
A hardware wallet is a physical device that is designed to securely store your cryptocurrency private keys offline. One of the main advantages of using this crypto tool is the added security it provides for your crypto assets. There have been a number of instances recently where exchanges have shut down, and haven't allowed users to withdraw their assets. With hardware wallets, you are not relying on any other entity to store your crypto so it is safe in your own hands.
Another one of the biggest risks in owning cryptocurrency is the potential for hacking and theft. When you store your private keys on a software wallet or exchange, your assets are vulnerable to hacking attempts and other online security threats. However, when you store your private keys on a hardware wallet, they are offline and aren't connected to the internet. This greatly reduces the risk of hacking and theft, making hardware wallets one of the best crypto tools for storing your assets.
Trezor
One of the most popular and trusted hardware wallets on the market is the Trezor. I am currently using the Model T and it's considered one of the best hardware wallets available.
Secure and easy to use
The main advantages of the Trezor is its security. The device stores your private keys offline, meaning that they are not connected to the internet and therefore not vulnerable to hacking attempts. Additionally, the Trezor has a passphrase feature, which allows you to add an extra layer of protection to your device. This passphrase is a unique and personal recovery seed, which you can use to restore your device in case you lose it.
Another advantage of the Trezor is its ease of use. The device is small and portable, making it easy to carry with you wherever you go. The Trezor also has a simple and user-friendly interface, which makes it easy to manage your cryptocurrency assets. You can use the Trezor to store and manage a wide variety of coins and tokens, including Bitcoin, Ethereum, Litecoin, and many others.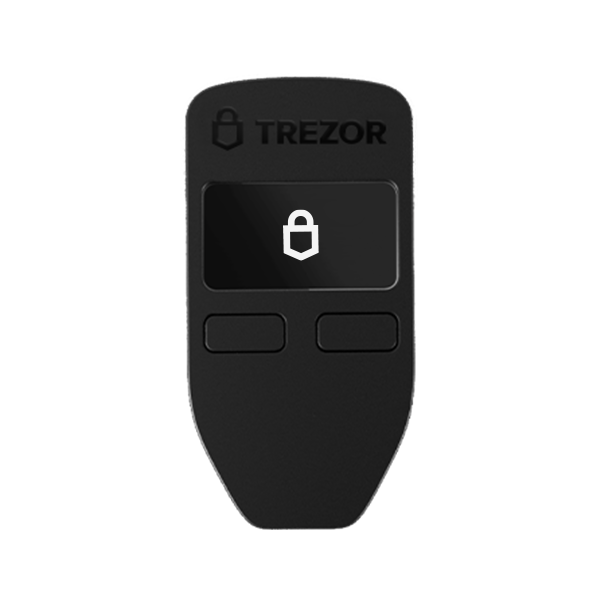 Other benefits
In addition to its security and ease of use, the Trezor is also known for its durability and longevity. The device is made of high-quality materials and is designed to withstand everyday wear and tear. Furthermore, the Trezor is also firmware upgradeable, meaning you can always keep it updated to the latest security standards.
The Trezor also offers a variety of features and integrations that make it a versatile and powerful tool for managing your crypto assets. For example, the Trezor has a built-in OLED display, which allows you to confirm transactions and check your balance on the device. Additionally, the Trezor can also be used with various software wallets and services, such as MyEtherWallet, Electrum, and others.
Conclusion and how to buy
To summarize: the Trezor is a highly secure and user-friendly hardware wallet that offers a range of features and integrations. It is considered to be one of the best options for storing and managing your cryptocurrency assets offline. Whether you are a beginner or an experienced trader, the Trezor is a great choice for keeping your crypto assets safe and secure.
I'm currently using the Model T, and I love it. Ledger
The other popular hardware wallet is the Ledger. Both Ledger and Trezor are well-known and reputable manufacturers of hardware wallets, and both offer high levels of security and convenience for storing and managing cryptocurrency assets. However, there are some key differences between the two that may make one a better choice for some users over the other.
Design and form factor
One of the main differences between Ledger and Trezor is the design and form factor. Ledger offers a variety of hardware wallets, including the Ledger Nano S and Ledger Nano X, which are small and portable, similar to a USB drive, while Trezor offers a single form factor that is slightly larger and more akin to a small calculator. The Ledger Nano X is also equipped with a larger screen, which allows for more comfortable navigation and more information on the device.
Other benefits
Another difference is the number of supported assets. Ledger supports more than 1,500 cryptocurrencies and tokens, including all of the major coins, while Trezor supports a smaller number of assets, although it still includes all the major coins.
Additionally, Ledger has a companion mobile app, Ledger Live, which allows users to manage their assets and make transactions on-the-go while Trezor has its own interface.
Another difference is the security features, Ledger is equipped with a Secure Element (SE) chip, which isolates the private keys from the main processor, providing an added layer of security. Trezor, on the other hand, uses a simple yet effective passphrase feature, which allows users to set a password or passphrase that must be entered before accessing the device.
Conclusion and how to buy
To summarize: both Ledger and Trezor hardware wallets offer high levels of security and convenience for storing and managing cryptocurrency assets and are great tools. However, the specific features and design of each may make one a better choice for some users over the other. Ledger offers more form factors and assets supported, while Trezor has a simpler design and passphrase feature. Ultimately, it comes down to personal preference and the specific needs of the user.
Charting tools
TradingView
TradingView is a popular charting and technical analysis tool that allows traders to view historical data and create custom indicators. It offers a wide range of features, including real-time data, indicators, and charting tools. This can be very useful for traders who rely heavily on technical analysis when making trading decisions. There is a free edition that does most of what you need, but I believe that once you get serious about trading you should definitely upgrade to at least Pro.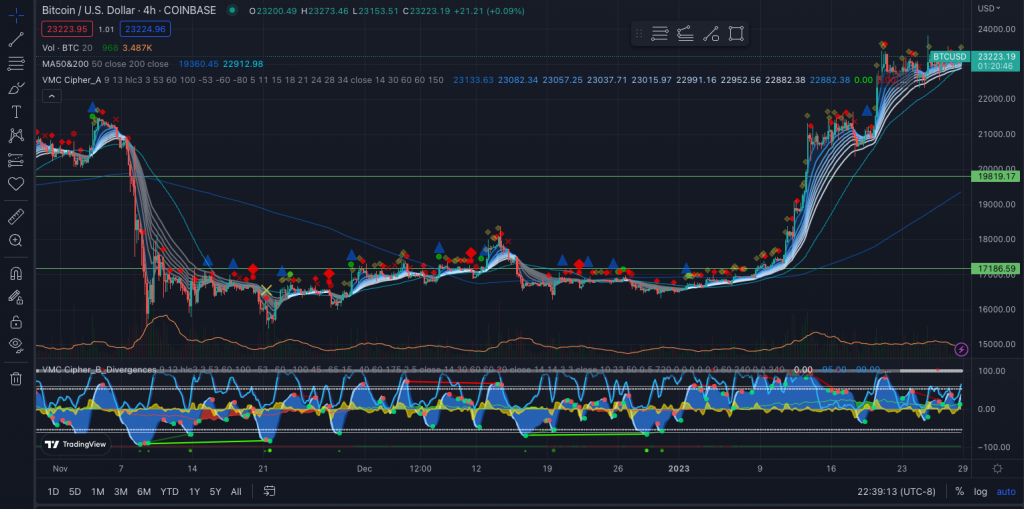 One of the main advantages of TradingView is its user-friendly interface. The tool is easy to navigate and has a wide range of customization options, which allows traders to create charts and indicators that suit their specific needs. Additionally, TradingView offers a wide range of technical indicators and drawing tools, which makes it easy for traders to conduct technical analysis and identify trade setups.
Another advantage of TradingView is its community aspect. The tool has a large community of traders and investors who share ideas and insights. This feature can be a great way to learn from other traders, share your own ideas, and gain insights into market trends. TradingView also has a feature of social media, where users can follow and interact with other traders and investors, which can be a great way to stay connected with the trading community and get new ideas.
TradingView is also considered as one of the best charting tools for crypto traders and investors, as it offers a wide range of crypto-specific indicators and tools, as well as real-time data for a variety of crypto assets.
To summarize, TradingView is a powerful and popular web-based charting platform tool that offers a wide range of charting and analysis features, as well as a large community of traders and investors. It is user-friendly, offers a wide range of data, and integrations with various platforms, making it a great choice for traders and investors of all experience levels.
Trading bots
Trading bots are software programs that use algorithms to make trades on your behalf. These bots can be programmed to follow specific strategies, such as buying and selling based on certain indicators or market conditions. Some popular trading bots include Pionex, HaasOnline, and Cryptohopper. While trading bots can be useful for automating trades and potentially increasing profits, it's important to note that they also come with risks and it's important to thoroughly research and understand the bot before using it. Here are three trading bots worth considering:
Pionex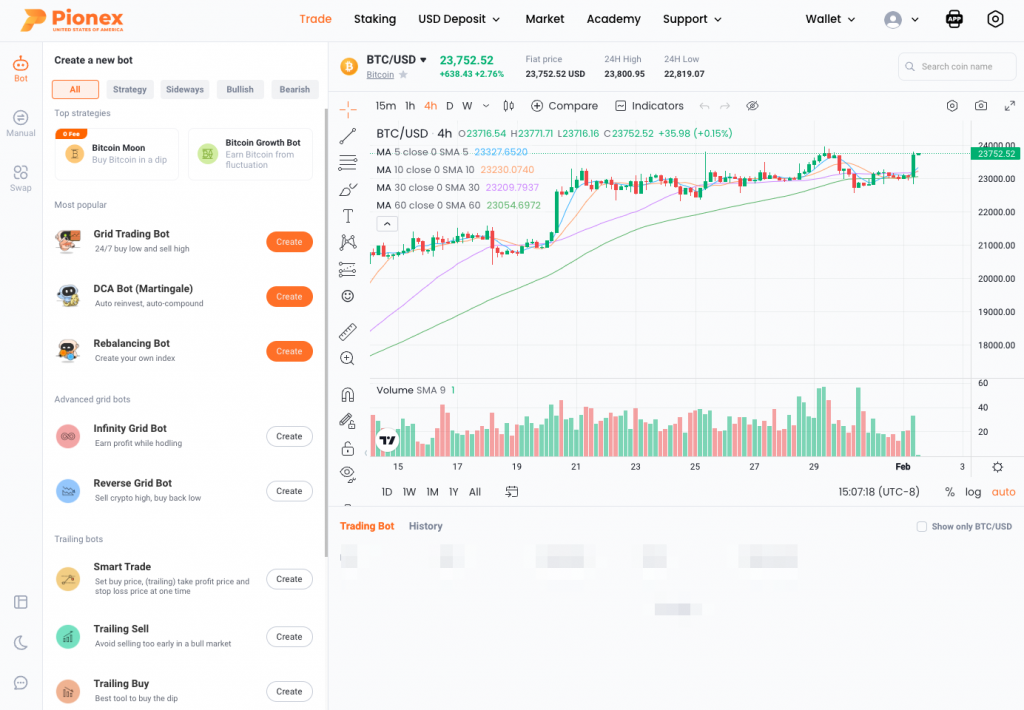 Pionex is a user-friendly platform that offers a range of features for crypto trading, including grid trading and stop loss orders.
It also has its own native token, GRID, which users can earn through trading and using the platform.
Pionex offers a free demo trading account and a variety of customizable bots to choose from.
HaasOnline
HaasOnline is a more advanced trading bot that is suitable for experienced traders.
It offers a wide range of features, including technical analysis, multiple order types, and customizable scripts.
Haasbot is one of the more expensive bots on the market, but it is also one of the most powerful.
Cryptohopper

Cryptohopper is a cloud-based bot that offers a range of features, including automated trading and social trading.
It allows traders to create and backtest their own strategies or follow strategies created by others.
Cryptohopper is also relatively affordable, with plans starting at $19 per month.
Each of these options have their benefits and it's important that you choose the one that fits best into your own strategy. Take some time to do your own research and figure out which one works best for you.
Social Media Platforms
Because the cryptocurrency world is still relatively new, there is so much information that isn't contained in the traditional media outlets. You can learn a lot by utilizing social media as an information gathering tool for an edge in your crypto trading. Social media is a very valuable information gathering crypto tool that you should utilize in your trading process.
Youtube
Youtube is my favorite place to get crypto information as video is one of the easiest mediums to consume. Most of the time you don't even need to watch the video, and it can act like a podcast that you can listen to while doing other tasks. One of the cons of Youtube is that it takes time for video content to be edited and posted so many normal videos can be a little late to the game. Livestreams are a little different in that you are getting the information in real time and at the earliest possible moment that it is being presented to the audience.
Reddit
Reddit is good because it floats up all of the best information to be the most visible. However, it's not as much in real time as it takes a moment for people to vote on it and for it to hit the front page.
Here are some subs that I subscribe to:
Twitter
Twitter is great because it's a huge platform and the information is truly in real time. If you learn how to use it, it can be really powerful. It took me a while to make the jump, but now I've realized that Twitter is super useful for many things, crypto included.
4chan
4chan is its own beast. You have to decide if you want to be on an anonymous board where many people use very obscene and racist language. I think that there's some advantages because not as many people are on it, so you can get some tips before the rest of the masses know. I've used it in the past, but haven't visited the site in a while.
TikTok
I don't personally use TikTok much, but I know this is another great place to get some tips and info on new cryptocurrencies and many of the influencers I follow also have a TikTok account.
Telegram/Discord groups
Along a similar vein to social media, Telegram and Discord groups provide a platform for traders to share information, discuss market trends, and receive trading signals. These groups can be a great source of information and support for traders of all levels. These groups can be very large communities, where members help one another to learn and be successful at trading cryptocurrencies. Many are free, and there are also others that require a membership fee to join.
I've had good experiences with groups like this and recommend that you try and meet other like minded people to share knowledge and to motivate one another.
Crypto trackers
Crypto trackers are tools that allow you to track the prices of different cryptocurrencies in real-time. Some popular crypto trackers include CoinMarketCap, CoinGecko, and CryptoCompare. These tools provide useful information such as market capitalization, trading volume, and historical data.
Portfolio trackers
Portfolio trackers allow traders to track their crypto investments and monitor the performance of their portfolio. Some popular portfolio trackers include Delta, and CoinTracking. These tools allow traders to track the value of their portfolio in real-time, and to view important metrics such as gains and losses.
News aggregators
Keeping up with the latest news and developments in the crypto market is essential for any trader. News aggregators such as CoinDesk, CoinTelegraph, and CryptoSlate provide the latest news and analysis from the crypto world.
Mobile apps
There are a variety of mobile apps available for trading crypto on the go. Some popular apps include Binance, Coinbase, and Robinhood. These apps allow you to trade and manage your crypto portfolio directly from your phone.
Social trading platforms
Social trading platforms allow traders to copy the trades of more experienced traders. This can be a useful tool for traders who are still learning the ropes and want to follow the strategies of more experienced traders. Some popular social trading platforms include eToro, NAGA, and ZuluTrade.